Daphne Goode and the SHAW team did an awesome job in commemorating the great Ken Dobson, the Dobber Classic, the GVSHOF Inductee Dinner and some wonderful shots of the archives at SOFA. See the video by clicking here.
Sunny skies, perfect conditions, a great field of players and another Dobber in the bag. Here is your 2015 winning team.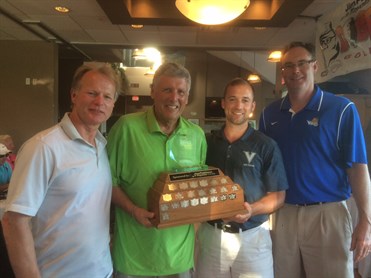 l - r. Robert Bettauer, Bob Wheaton, Zac Andrus and Clint Hamilton. This is a PISE / Uvic collaboration with Bob Wheaton of the GVSHOF.
FOR IMMEDIATE RELEASE
Today, theGreater Victoria Sports Hall of Fameannounced the2015 Inductees!
This year's inductees will bring the total number of Victoria's honourees to 205. The six athletes to be honoured are: Lauren Woolstencroft (Skiing), Alexander (Sandy) Peden (Shooting), Rick Say (Swimming), Ike MacKay (Soccer), Bruce Deacon (Marathon), and Steve Sinclair (Baseball); the three builders are Elaine Dagg-Jackson (Curling), Mike Spracklen (Rowing), and Ed Ashmore (Wrestling).
The Inductees will be honoured at a special ceremony and dinner at the Westin Bear Mountain Golf Resort & Spa on October 17, 2015.
For further information, please see below.