Don't delay. Register now for the annual Dobber Golf Classic.
On-line registration is available by clicking on the golf ball:

Manual registration
If you wish to register manually you can complete the registration form and mail with your payment. To download and print out a PDF of the form click here!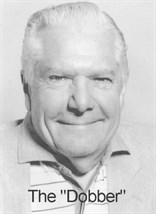 When former CFAX 1070 sportscaster Ken Dobson started an invitational golf tournament, he wanted it to be fun and inexpensive above all else.Twenty-one years later, the Dobber Classic is sticking to Dobson's vision with its June 5 tournament at the Cedar Hill Golf Course.
"Dobson was a devoted community-minded person who supported all the amateur sports groups," says Greater Victoria Sports Hall of Fame director John Bate, who chaired the Dobber Classic for 20 years before passing on the role. "If anyone asked, he would show up and speak. He was committed that way."
Ken Dobson (1923 to 1995) was a colourful and much loved sportscaster and sports director at CFAX. After his death, CFAX initiated the Ken Dobson Athletic Scholarship in his memory for graduating grade 12 students who are active in sports.
Before he retired, Bate managed the old Memorial Arena and was the director of Parks and Recreation at the City of Victoria. His family lived in Saanich, two doors down from Dobson's family. "We got to know Ken quite well and really see what he was about," Bate says.
While the tournament entry price has slowly grown - it's up to $110 per person - Bate points to the loyalty of the tournament players and the number of goodies that come with each registration including tickets to the Victoria Shamrocks, Victoria Royals and UVic Vikes, among other items.
"This is one of our two annual fundraisers and it's a big deal to us, as our goal is to produce a new display (for the Hall of Fame) at Save-On-Foods Memorial Centre each year, usually on that year's inductees," he says. "The tournament still a great deal for what you get. You don't find golf tournaments as fun as this where you come out with as many sponsored gifts for the price."
And the same players keep coming back each year, Bate adds. Organizers see a return rate of about 85 to 90 per cent from the previous year. "It's an annual reunion with a core of players who've been coming out since it started," he says. "Even the foursomes are the same, slowly changing one player at a time." Among the big draws is an impressive sports auction with autographed Vancouver Canucks sticks and Toronto Maple Leafs memorabilia, as well as a prized Jose Bautista bat, signed by the Toronto Blue Jays slugger.
It's safe to say a bat like that would fetch an auction price in the thousands of dollars in Vancouver. "Sometimes we need to remind ourselves there are other perks of being in Victoria. Though, all it takes is two bidders," Bate says wryly.
by Travis Paterson - Saanich News
John Bate, left, and Bob Wheaton of the Greater Victoria Sports Hall of Fame hold a sketch of Ken Dobson, the longtime CFAX 1070 sportscaster. The Dobber Classic golf tournament at Cedar Hill Golf Course raises funds for the hall of fame each year.
- image credit: Travis Paterson/News staff
Return of the Rugby Canada Super League Trophy
The Rugby Canada Super League (RCSL or Super League) was a national, semi-professional rugby union competition in Canada. The league represented the second level of domestic rugby union in Canada, and the highest level wholly indigenous to Canada. In terms of seniority it rested immediately beneath the IRB sponsored North America 4, a former US/Canadian cross-border competition in which two Canadian teams (Canada East and Canada West) took part.
In early 2009, after 11 seasons of Super League play, Rugby Canada decided to disband the RCSL in the wake of the establishment of the Americas Rugby Championship, the successor to the North America 4. The RCSL was replaced by the Canadian Rugby Championship and the Rugby Canada National Junior Championship, which absorbed the majority of the RCSL teams.
In a recent review of the GVSHoF's historical objects, it was decided that we would check back with Rugby Canada to see if they would like the trophy returned. They were thrilled to have the Rugby Canada Super League Trophy as an addition to their historical archives.
Pictured below, on Friday February 27th, 2015 is Mr. Gareth Rees, Manager, National Men's Program formally accepting the return of the Super League Trophy from Doug Jennings - 1st VP GVSHoF.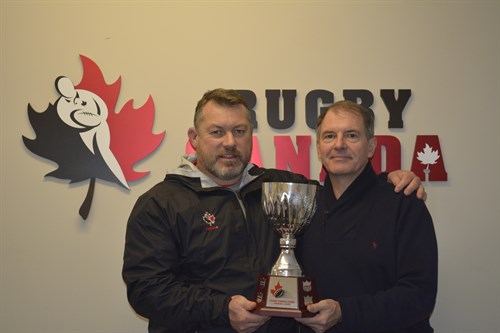 Return of the George Grant Trophy - School District 61 Elementary Mixed Cross Country Champions
When the Greater Victoria School system changed to grades 1 to 6, Middle schools and High schools, the old Elementary Grade 1 to 8 athletic program was shelved and the various trophies became obsolete. The Greater Victoria Sports Hall of Fame (GVSHoF) was asked to be the caretakers for the George Grant Trophy and it was added into our archived collection.
The trophy was presented to the aggregate winner of the Greater Victoria District #61 Elementary Schools Mixed Cross Country competition. It was awarded from 1973 to 2004. The trophy is named after George Grant, a long time physical fitness advocate, who was the Physical Education Supervisor in District #61 for 26 years until his retirement in 1972. In 1977 George Grant received the R. Tait McKenzie award, a national recognition, for his contribution to Physical Education in Canada.
In a recent review of the GVSHoF's historical objects, it was decided that we would check back with School District #61, to see if they would like the trophy returned. The District Archivist was thrilled to have the George Grant Trophy for SD #61 Cross Country Champions as an addition to the School District's archives.
Trophy Winners were:
1973 Margaret Jenkins School; 1974 Braefoot School; 1975 Sir James Douglas;
1976 Blanshard School; 1977 Sir James Douglas; 1978 Gordon Head;
1979 Gordon Head; 1980 Monterey; 1981 Monterey; 1982 Monterey; 1983 Glanford;
1984 Gordon Head; 1985 Gordon Head; 1986 Monterey; 1987 Torquay;
1998 Torquay; 1999 Torquay; 1990 Campus View; 1991 Campus View;
1992 Campus View; 1993 Hillcrest; 1994 Margaret Jenkins; 1995 Margaret Jenkins; 1996 Margaret Jenkins; 1997 Gordon Head; 1998 Monterey; 1999 Monterey; 2000 Monterey; 2001 Monterey; 2002 Willows; 2003 Monterey; 2004 Monterey.
As pictured below, on Friday February 6th, 2015 Doug Jennings - 1st VP GVSHoF met with Mr. Patrick Duncan, Deputy Superintendent of Schools to formally return the George Grant Trophy to the School District.