Return of the Rugby Canada Super League Trophy
The Rugby Canada Super League (RCSL or Super League) was a national, semi-professional rugby union competition in Canada. The league represented the second level of domestic rugby union in Canada, and the highest level wholly indigenous to Canada. In terms of seniority it rested immediately beneath the IRB sponsored North America 4, a former US/Canadian cross-border competition in which two Canadian teams (Canada East and Canada West) took part.
In early 2009, after 11 seasons of Super League play, Rugby Canada decided to disband the RCSL in the wake of the establishment of the Americas Rugby Championship, the successor to the North America 4. The RCSL was replaced by the Canadian Rugby Championship and the Rugby Canada National Junior Championship, which absorbed the majority of the RCSL teams.
In a recent review of the GVSHoF's historical objects, it was decided that we would check back with Rugby Canada to see if they would like the trophy returned. They were thrilled to have the Rugby Canada Super League Trophy as an addition to their historical archives.
Pictured below, on Friday February 27th, 2015 is Mr. Gareth Rees, Manager, National Men's Program formally accepting the return of the Super League Trophy from Doug Jennings - 1st VP GVSHoF.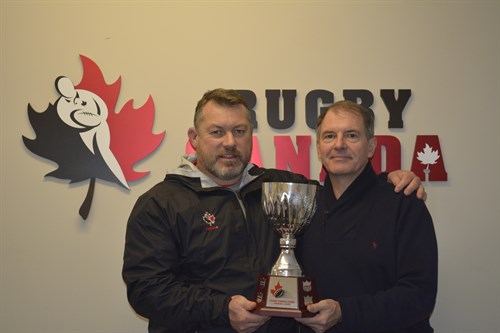 Return of the George Grant Trophy - School District 61 Elementary Mixed Cross Country Champions
When the Greater Victoria School system changed to grades 1 to 6, Middle schools and High schools, the old Elementary Grade 1 to 8 athletic program was shelved and the various trophies became obsolete. The Greater Victoria Sports Hall of Fame (GVSHoF) was asked to be the caretakers for the George Grant Trophy and it was added into our archived collection.
The trophy was presented to the aggregate winner of the Greater Victoria District #61 Elementary Schools Mixed Cross Country competition. It was awarded from 1973 to 2004. The trophy is named after George Grant, a long time physical fitness advocate, who was the Physical Education Supervisor in District #61 for 26 years until his retirement in 1972. In 1977 George Grant received the R. Tait McKenzie award, a national recognition, for his contribution to Physical Education in Canada.
In a recent review of the GVSHoF's historical objects, it was decided that we would check back with School District #61, to see if they would like the trophy returned. The District Archivist was thrilled to have the George Grant Trophy for SD #61 Cross Country Champions as an addition to the School District's archives.
Trophy Winners were:
1973 Margaret Jenkins School; 1974 Braefoot School; 1975 Sir James Douglas;
1976 Blanshard School; 1977 Sir James Douglas; 1978 Gordon Head;
1979 Gordon Head; 1980 Monterey; 1981 Monterey; 1982 Monterey; 1983 Glanford;
1984 Gordon Head; 1985 Gordon Head; 1986 Monterey; 1987 Torquay;
1998 Torquay; 1999 Torquay; 1990 Campus View; 1991 Campus View;
1992 Campus View; 1993 Hillcrest; 1994 Margaret Jenkins; 1995 Margaret Jenkins; 1996 Margaret Jenkins; 1997 Gordon Head; 1998 Monterey; 1999 Monterey; 2000 Monterey; 2001 Monterey; 2002 Willows; 2003 Monterey; 2004 Monterey.
As pictured below, on Friday February 6th, 2015 Doug Jennings - 1st VP GVSHoF met with Mr. Patrick Duncan, Deputy Superintendent of Schools to formally return the George Grant Trophy to the School District.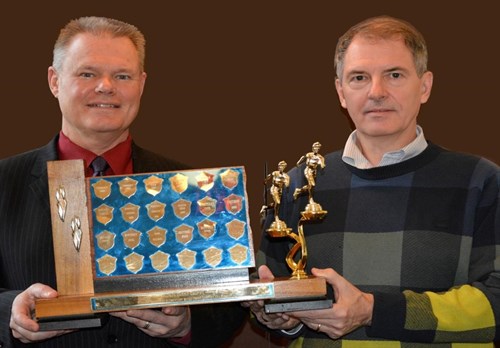 Our Induction Committee is beginning its work to determine who will enter the Hall of Fame for 2015. Here are the requirements for nominations:
Submissions may be made to any Director of the Sports Hall of Fame or mailed to GVSHOF, 100-4636 Elk Lake Drive, Victoria BC V8Z 5M1.
Deadline is February 28 of the current year.
CATEGORIES:
The categories for induction are Athletes, Coaches & Builders, Teams & Organizations, and Media.
'Builders' can include owners, managers, officials, organizers, etc. who have achieved outstanding success in their sport.
REQUIREMENTS:
Any person or organization can submit an application, but it is preferred (if the application is for an athlete, team, or coach) that it also be endorsed by the governing/organizing body of their sport.
The application must include:
¨ the name of the nominee with details of their sport, category etc., along with contact information for the nominee and the person and/or organization submitting the application.
¨ a detailed list of an athlete's, team's, or coach's achievements in the sport, including any provincial, national, international, world, Olympic, Paralympic, Commonwealth, Pan American etc. championships, records, medals, national team membership, peer recognition, induction to other sports halls of fame, or any other information that would add to a full understanding of the potential nominee's sports career.
¨ copies of media reports, photos of trophies, medals, ribbons, and any other supporting documentation.
¨ name and contact information of the governing/organizing body and whether or not they have endorsed the application.
Builders, organizations and media applications require as much supporting information and material as possible and applicable to their category.
All applications must conform to the eligibility requirements of these GVSHOF policies.
All applications require three letters from recognized individuals/organizations endorsing the application.
Include any other information or material that would assist the INC in evaluating the application.