The Greater Victoria Sports Hall of Fame (GVSHOF) and the University of Victoria Department of Athletics and Recreation are pleased to announce Vikes men's soccer player, Michael Baart, as the fifth winner of the annual Bate Family Greater Victoria Sports Hall of Fame Award.
The St. Michaels University School graduate is a first-year Engineering major who is passionate about computer science and aspires to pursue a degree in software engineering. See the VIKES website for more info on Michael.
David Bate, whose family has created the generous award, started off as a UVic student in the late 1980s.
"The University of Victoria needs the financial firepower and community platform to attract local athletes to its teams," said Bate. "Hopefully, this award marks the beginning of a greater opportunity for local kids to get a world-class education while playing on varsity teams at UVic. I also hope their contributions help these teams perform well and enhance Victoria's long legacy of athletic achievements that continues to make Victoria one of the best communities to live in."
Bate Family Greater Victoria Sports Hall of Fame Award - Past recipients
2014-15: Michael Baart, Soccer, St. Michaels University School
2013-14: Stephanie Polomark, Rowing, Belmont Senior Secondary
2012-13: Sarah Douglas, Soccer, Glenlyon Norfolk School
2011-12: Patrick Psotka, Track, Oak Bay High
2010-11: Julia Schmidt: Swimming, Lambrick Park Secondary
320 patrons sold out our 2014 Induction Ceremonies and Dinner at the Westin Bear Mountain Golf Resort and Spa on Saturday evening. It was an inspirational event as all nine inductees provided moving speeches!!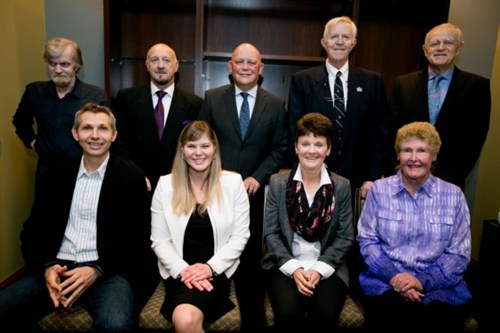 Greater Victoria Sports Hall of Fame inductees are, front left to right, Eli Pasquale, Stephanie Dixon, Lynne Beecroft and Maureen Hibberson and, back left to right, Al Howie, Stan Peterec, Jim Reed, Jim Carter (representing the 1994 Commonwealth Games sport committee) and Chris Hall. Photograph By DARREN STONE, Times Colonist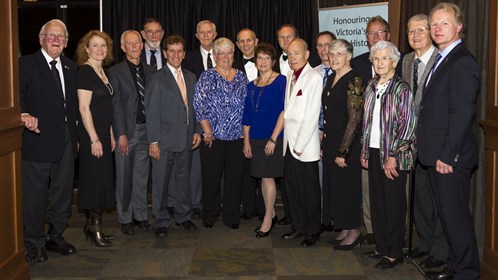 The 1994 Commonwealth Games Sport Committee with sponsor Robert Bettauer, CEO of the Pacific Institute for Sport Excellence.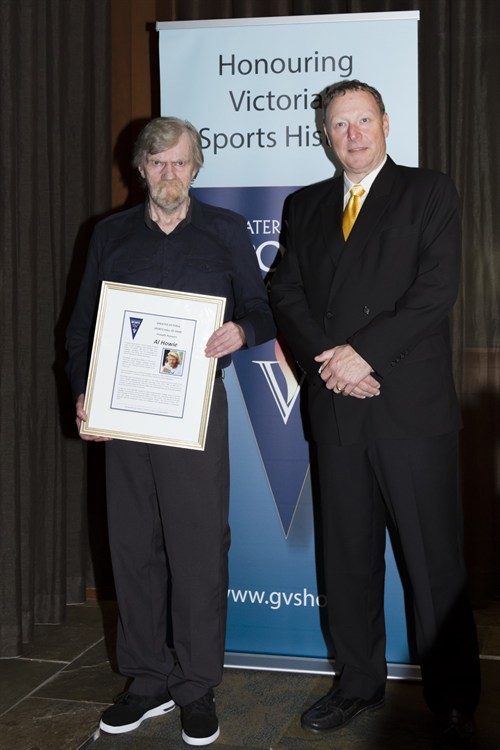 Ultra Marathoner Al Howie with sponsor David Gramlich of Howe & Gramlich Wealth Management Inc.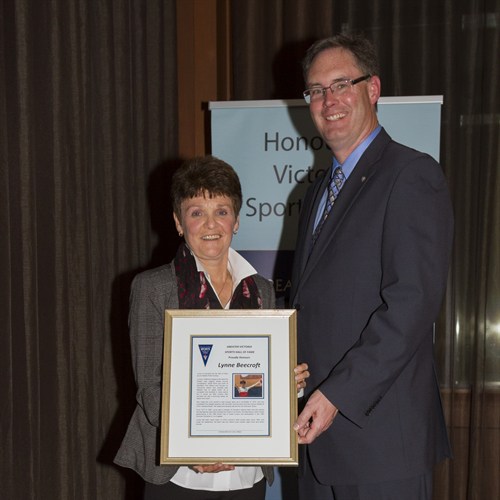 Lynne Beecroft with sponsor Clint Hamilton, Director of UVic VIKES.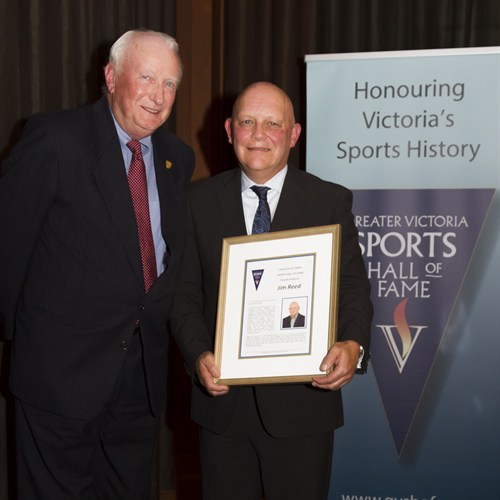 Builder Jim Reed with sponsor Hugh MacDonald, Executive Director of SportHost Victoria.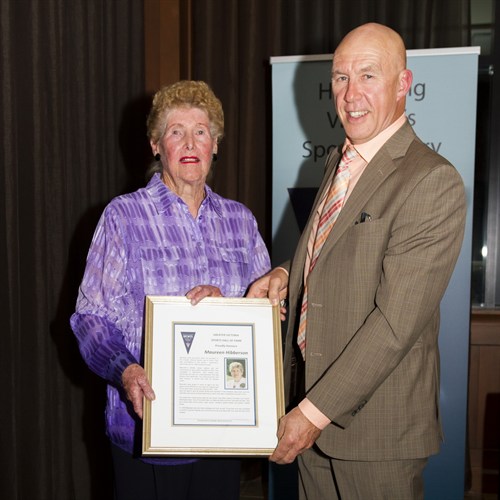 All rounder Maureen Hibberson with sponsor Tom MacGregor of Mann, Moulson & Co.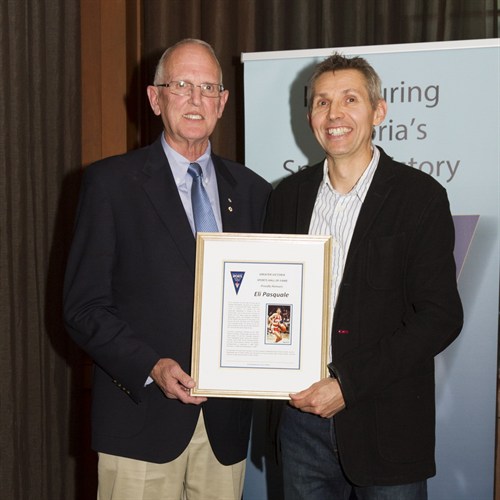 Athlete Eli Pasquale with sponsor Ken Shields of the UVic VIKES.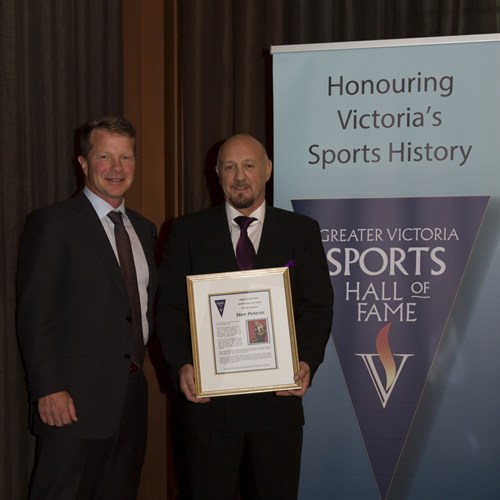 Athlete Stan Peterec with sponsor Bryce Little of Little & Davies Insurance and Financial Planning.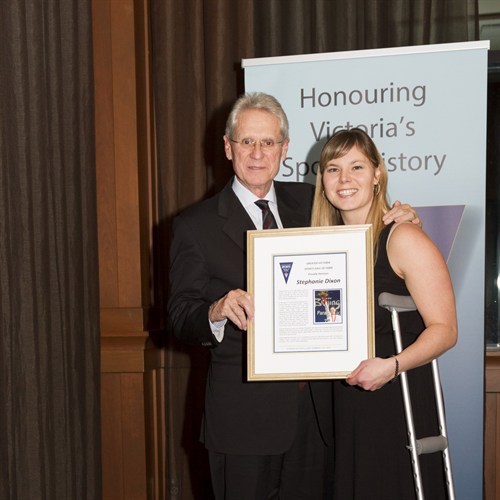 Athlete Stephanie Dixon with sponsor Ron Jacks of Pacific Coast Swimming / UVic VIKES.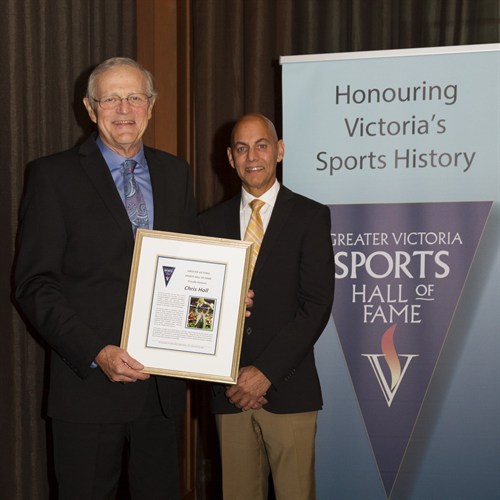 All rounder Chris Hall with sponsor Jeevan Dillon of Zieglers Janitorial Ltd.
The Board of Directors is pleased to announce the inductees into the Greater Victoria Sports Hall of Fame for 2014. They will be honoured at a gala dinner on October 25.
ATHLETES
Stephanie Dixon - Swimming -Considered one of the best swimmers with a disability in the world. Won 5 gold medals at Sydney 2000 Paralympics. From 2004 to 2009, she won a further 2 gold , 8 silver and 2 bronze Paralympic medals at Athens and Beijing, set a world record at the IPS World Championships, won 7 golds at the Para Pan Am Games, and many medals at the 2006, 2007, 2008 and 2009 Can Am Championships and 2006 and 2009 World Championships.
Stan Peterec - Martial Arts -Stan is a two-time world kickboxing champion who fought professionally all over the world. He won hundreds of tournaments and was often declared the most outstanding competitor. He represented Canada in France at the World Savate Competition, was the Coach for Team Canada in China, trained many title holders, and operates a successful dojo. Stan is a consultant for Black Belt Magazine that proclaimed him one of the world's deadliest martial artists. He is only the third man and first Canadian to fight professionally for five decades.
Al Howie - Ultra Marathon -Won over 50 marathons, ultramarathons and multi-day races over 2 decades. Was the first person ever to complete the grueling Sri Chinmoy 1,300. In Guinness Book of Records for 1991 achievements: the Trans Canada Highway coast-to-coast run, commemorated by a plaque on the Mile Zero marker, for which he raised $750,000 for special needs children and two weeks later, set another record in the Sri Chinmoy 1300.
Maureen Hibberson - All Rounder -Represented UBC at provincial and national levels in badminton, synchronized swimming and grass hockey, competing at both Canadian Synchro and Badminton championships in same year and powering UBC to many sporting victories. She holds more than 40 badminton tournament titles - local and national, open and masters - was twice BC Synchro champion and since taking up golf in 1958, has played 4 times in BC Golf championships.
Chris Hall - All Rounder - A five sport athlete in baseball, basketball, football, rugby and lacrosse, Hall starred on many junior and senior teams in Victoria before turning his focus to lacrosse in his mid-twenties. Hall spent 12 years as a Head Coach in the NLL, was a five time All Star Game coach and retired this year as the 3rd all time wins leader. He was nominated and won election this month as an NLL Hall of Fame inductee Class of 2014. Hall was also the Head Coach of Team England and has taken that country through the last two World Box Championships in Halifax and Prague.
Eli Pasquale - Basketball - Led Vikes to 5 straight CIAU championships. Aside from professional play 1985-86 and 1989-90, has lived in Victoria ever since. A member of the national team over 15 years. Led Canada to 4th place finish at both 1984 Olympics and 1982 FIBA World Championships. Prominent member of gold medal 1983 World University Games team. Inducted into Canadian Basketball Hall of Fame 2003, BC Sports Hall of Fame 2004, and UVic Hall of Fame.
Lynne Beecroft - Field Hockey - Vancouver Island native completed 5 straight seasons with UVic, winning silver and 2 bronze at CIAU championships. Went on to 9 years on the national team, and has 58 international caps. Competed at World Cup Championships 1978,79,81, 83, winning silver in 1983. Competed at 1984 Olympics. Has been head coach of UVic since 1985. Was inducted into the BC Sports Hall of Fame in 2002 and UVic Hall of Fame in 2012.
Jim Reed - Builder - Outstanding contribution to Victoria's sport infrastructure. As Vice President, Facilities and Executive Vice President of 1994 Commonwealth Games, was responsible for the design and construction of the international track and warm-up track at UVic, Saanich Commonwealth Place, the Velodrome, the Juan de Fuca lawn bowls greens. He was instrumental in the establishment of the Pacific Institute for Sports Excellence (PISE), chairing the fundraising campaign and negotiating its position at Camosun College. He was founding Chair of the Board of PISE.
TEAM - Sport Committee of the 1994 Commonwealth Games - Led by Chair Jim Carter and Vice Chairs Gary Taylor and Sandra Stevenson, the Sport Committee comprised the Chair, Medical Services and Doping Control and 20 Sport Chairs responsible for the sport competitions of the 1994 Commonwealth Games. As a team, they committed countless volunteer hours and not only succeeded, but excelled in delivering the biggest international sporting and television event in Victoria's history.
For more information contact Nick Tuele at 250 652 1455.